*** Winlink Wednesday (Episode #367) ***
9/20/2023
Third Wednesday of the month, so check-ins using an attached Winlink-native ICS-213 form are requested. Step-by-step instructions are here if you need them:

https://winlinkwednesday.net/docs/Winlink_Wednesday_ICS-213_Check-In.pdf

If you cannot use the form, standard check-ins are always welcome (no weather snapshots, please). Please remember to always include the standard check-in in the form message.

Example: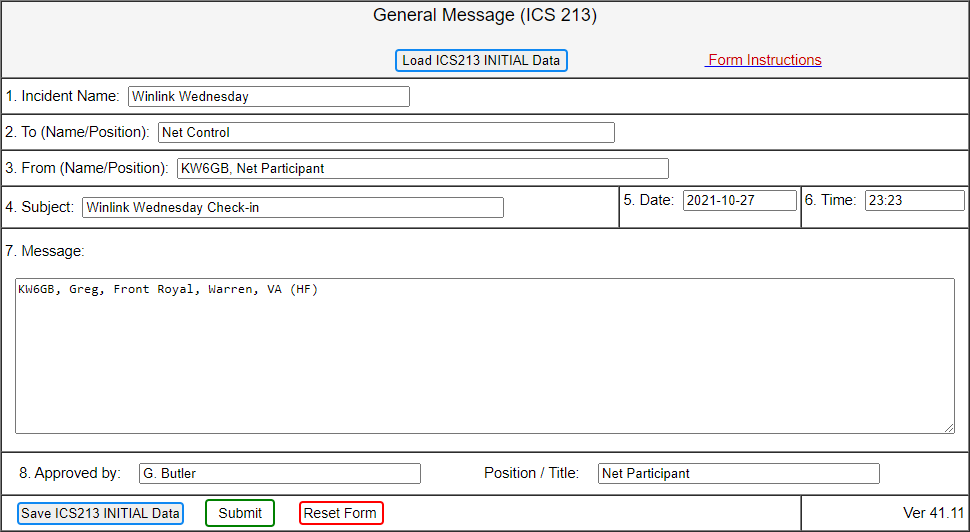 WHO: All amateur radio operators
WHAT: Winlink Wednesday
WHEN: Wednesday, 20 September 2023, 0000-2359 ET (UTC: 0400 Wed - 0359 Thu)
HOW: This net will accept check-ins via Winlink only. Send a check-in via any RMS during the timeframe above, or participate in one or both of the P2P sessions below.

Please do not use a "Telnet Winlink" connection (which defeats the purpose of Winlink). The goal is to have the message leave your station via RF.
Please remember to use the correct format (check-in message on a SINGLE LINE) for check-in, as shown below, over an RF connection.

To: KN4LQN (or alternate NCS, as appropriate)
Subject: Winlink Wednesday Check-In
Message body: call sign, first name, city or town, county, state (HF or VHF, etc.)

See example in my signature line, below.

PEER-TO-PEER SESSIONS:
Morning session: 0730-0930 ET, (UTC: 1130 - 1330), ARDOP P2P, several frequencies (see chart below).
Net Control Stations - Morning P2P Session
Please check in through ONLY ONE of these stations each week.
Role
Station
Dial (kHz)
Width (Hz)
Operator
Location
Primary
KN4LQN
3582
2000/500
David Elkins
Chesterfield, VA
Primary*
KN4LQN
10143
2000/500
David Elkins
Chesterfield, VA
Alternate
KE4KEW
3565
2000/500
Martin Krupinski
Augusta, VA
Alternate
KK4CSK
3576
2000/500
Jesse Bryant
Valdese, NC
Alternate*
W4RJG
7111
500
Rory Griffin
Halifax, VA

Messages sent to Alternate NCS must be addressed to the receiving station.
* = extended session available

Evening session: 1900-2130 ET, (UTC: 2300 Wed - 0130 Thu), VARA HF P2P, several frequencies (see chart below).
Net Control Stations - Evening P2P Session
Please check in through ONLY ONE of these stations each week.
Role
Station
Dial (kHz)
Width (Hz)
Operator
Location
Primary
KN4LQN
3582
2300/500
David Elkins
Chesterfield, VA
Primary*
KN4LQN
14087
2300/500
David Elkins
Chesterfield, VA
Alternate
KE4KEW
3565
2300/500
Martin Krupinski
Augusta, VA
Alternate
KK4CSK
3576
2300/500
Jesse Bryant
Valdese, NC
Alternate*
W4RJG
7111
500
Rory Griffin
Halifax, VA

Messages sent to Alternate NCS must be addressed to the receiving station.
* = extended session available

Watch Facebook for details when active.

On Thursday, all check-ins will be acknowledged, and a net report and complete roster will be published to the Web.

73,
KN4LQN, David, Chesterfield, VA (HF)